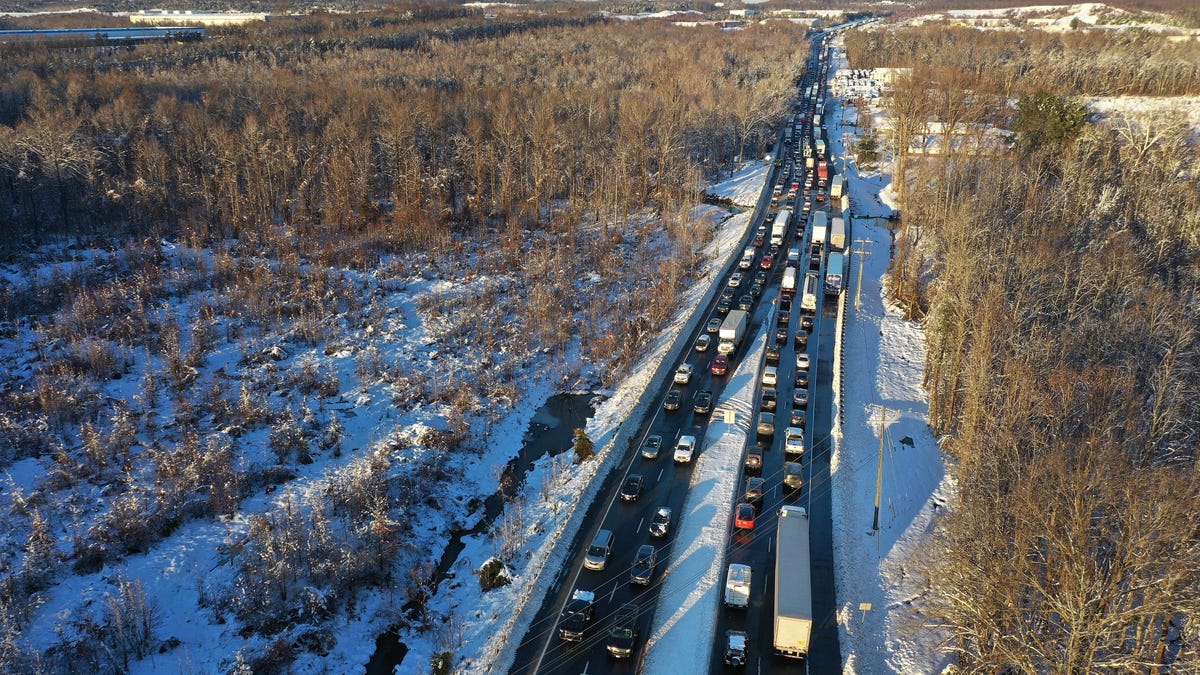 Google Maps and Waze got me lost during I-95 snowstorm
Senator Tim Kaine and I have something in common: We were extremely reckless crossing the state of Virginia on Monday, when the combination of winter storms and the traditional regional practice of doing nothing about them screwed us both up for over 20 hours.
Monday's storm has poured out more than a foot of snow over parts of eastern Virginia, with significant accumulation extending as far as Maryland. This was not good, because as anyone who has lived along this stretch will know, the region's reaction to the dangerous winter weather conditions usually falls into two simultaneous extremes: panic and recklessness. The panic is due to the fact that the region is generally not prepared for snowfall, so much so that a few inches of snow in Washington is capable of bringing the US government to a strangled stop. Recklessness arises when drivers unaccustomed to winter conditions inevitably take to the roads and act as if black ice is increasing speed.
That's all under normal circumstances. But a spectacular disaster began on Monday because, as has been widely reported, the state Department of Transportation failed to take basic action like pretreatment of roads with salt, and the snow clearing crews were completely overwhelmed. On I-95, one of the the most important monuments to the nightmarish cult of car ownership, that meant thousands of drivers got stranded in stationary traffic from Monday morning. Some spent more than 24 hours trapped there, dangerously running out of food, drink and gas as temperatures plummeted among teenagers – Sen. Kaine told media that his trip to DC took about 27 hours. Fortunately, no one died.
The vast majority of blame rightfully been directed to the VDOT, but I have another grudge to allay: I blame Google for a hellish 20-hour drive that included a 10-hour stint on I-95. Specifically, Google maps and Waze.
The trip started innocently enough: At around 11:30 am on Monday, my partner and I checked out of a hotel in Virginia Beach, headed for DC. It was a storm and we had heard of issues on the roads further north, but Google Maps gave us a not too bad estimate for the 209 mile trip up front. According to my partner, however, he noted the possibility of delays of six to seven hours when putting into navigation mode. Like snowfall haBarely stopped we made a bad bet that things could get better and off we went.
G / O Media may earn a commission
Save $ 120
Apple Watch Cellular Series 7
Stream music, podcasts, and audiobooks on the go.
Stay connected to family and friends with calls, texts and emails, even when you don't have your phone.
(Disclosure: I can't drive because I let my license expire. So I mainly served as a witness and a navigational aid as we made our way slowly, very slowly towards an inexorable doom on the I -95.)
Passing through Richmond we switched to an alternate route that Google Maps thought might help us get around the worst of the expected delays on I-95, even though he still insisted we finally jump there. We stopped at a Chili's and downloaded Waze, Google's other navigation app. We considered taking an alternate route on Route 301, but Google Maps and Waze agreed on one thing: I-95 would definitely be faster, despite confusing delay estimates. In retrospect, this would have been a good time to check the news and see that the status of the route suggested by Google was already becoming national news, or that state officials were warning people to stay away. Instead, we relied on estimated application times, which fluctuated wildly.
We reached Falmouth, near Fredericksburg, shortly before dark. By that time, hundreds of people had been stranded on stretches of I-95 in our path for most of the day. Waze, clearly feeling like it was a lot smarter than it actually was, tried to get around a blockage by taking back roads (maps suggested similar routes). The only problem was that these secondary roads were not cleared of snow, covered in snow and ice, and were quickly inundated by hundreds of other drivers whose GPS had clearly had the same idea. It was then that we got trapped for the first time: we neglected to go down a particularly alarming road suggested by Waze, but trying to overtake a car on another unplowed street, our right tires got stuck in a snowbank. A Good Samaritan living nearby kindly came with shovels, but the road was full of other stuck cars, including a pickup truck that we had to help dig first. By the time we finally got out of there, over two hours had passed.
Shortly before we left, the Good Samaritan mentioned that apps must have been the root of the situation in her driveway, as she had been quiet all day until an avalanche of cars arrived. suddenly.
Waze took us north on Route 1 for a while, but again advised us to take I-95. It was a disastrous error in judgment, although perhaps inevitable at this point, as Waze had successfully led us into a trap with no other way out. More importantly, its estimated delay time fluctuated as low as a few hours. It was pure bullshit. After getting on I-95 around 7:00 p.m., we were greeted on I-95 by a shard of black ice and car bombs stretching out as far as the eye could see. Waze took the opportunity to start giving us more honest late estimates, like three and a half hours to get to within 10 miles north of a hotel.
When you've been standing still on black ice for hours, periodically turning the engine on to keep the front seats above freezing before turning it off to save gas, strange thoughts may occur to you. in mind. Completely illogical, conspiratorial thoughts like, "Hey, maybe I'm stuck here, constantly refreshing Waze, and looking for hotels on Google Maps, that was it. Google wanted all the time. " It was at least a change in mental dialogue from previous questions like "Has Virginia ever heard of fucking salt" or "Will the state soldiers arrest me for doing this?" pee on the side of the road? "
With the hindsight of the Washington Post timeline of the I-95 fiasco, some things make more sense. The inconsistent estimates offered by Waze and Google Maps were probably somewhat related to the slowness of the VDOT timeline in recognizing how serious the situation was; he did not admit to a "complete blockade" of traffic until midnight, after drivers had been trapped for hours. For some reason I-95 has not been officially closed up to three hours after that. Presumably, Google Maps and Waze continued to recommend I-95 as a workable route until then.
"Under unpredictable conditions, our team is working as quickly as possible to update routes using details from local authorities, driver feedback and sudden changes in driving trends," a Google spokesperson told Gizmodo by e-mail. "Earlier this week, we posted a winter storm warning and stopped going through I-95 once we verified it was closed. We encourage everyone to stay alert and attentive, especially when driving in bad weather. "
Most importantly, Google Maps and Waze are not like the old paper maps of yesteryear. When using a paper map, the active actor is you. We must trace the road. No one ever blames a specific paper map for losing them. But by their very design, navigation apps provide users with the comfortable illusion of confusing who exactly is responsible. They will always try to give you a route, no matter how misguided the search for a route may be, and they will dutifully guide you along it. lemmings-style, if you allow it. Outside of really extreme situations like forest fires or terrorist attacks, they'll never tell you that hey, maybe it's a better idea not to drive at all.
Of course, we were in control. At any time, we could have just cut our losses and … stopped. I found a hotel or something. Instead, we let an algorithm push us further and further, regardless of the consequences until it's too late. That thousands of other people have clearly done the same is cold comfort.
Either way, there is clearly a lesson to be learned here. If anyone knows what app I can download to figure this out let me know.