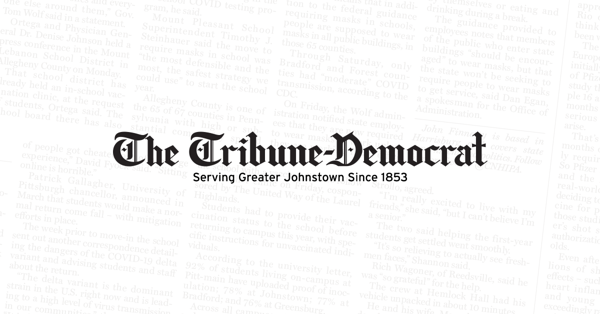 Guest Editorial | New electoral district maps aren't perfect, but they're more accurate than what we had before | Editorials
The following editorial appeared in the Harrisburg Patriot News/Pennlive.com. It does not necessarily reflect the opinion of The Tribune-Democrat.
The courts have spoken. The lines are drawn. And the campaign began.
Now that the Pennsylvania Supreme Court has approved the legislative electoral maps, there are no more shoes to drop in the 10-year redistricting process. Candidates now know exactly who they will be competing to represent and can begin the tedious process of registering signatures, filing election documents, soliciting votes; and, we almost forgot, fundraising.
It's been an uphill battle in recent months over congressional and legislative charts. There was a governor's veto, legislative wrangling and multiple court battles. Much was at stake for Republicans and Democrats alike, as these new maps will govern Pennsylvania politics for the next 10 years.
Not everyone is happy; it is a given. Republican House Leader Kerry Benninghoff of Center County said he is still looking for legal options to challenge the legislative maps. But it will be difficult to find them.
With respected, non-partisan organizations such as the League of Women Voters, Fair Districts PA, Draw the Lines PA and its parent, the Committee of Seventy, applauding the cards, voters can have a good degree of confidence that they are fairer than the gerrymandering of the last decade.
Volunteers from these organizations have spent years working to ensure that candidates from either political party have a fair chance of being elected. And they have worked to ensure that minority voices are not marginalized or segregated.
The volunteers who put in so many hours of work, even drawing their own maps to guide the process, deserve the gratitude of Pennsylvania voters.
Voters should also thank Mark Nordenberg, a former chancellor of the University of Pittsburgh who chaired the Legislative Redistricting Commission (LRC), responsible for redrawing the maps of the State House and Senate districts.
He was a respected voice during the process and was widely applauded for his calm and consistent leadership.
Nordenberg has published a comprehensive report summarizing the mapping process that is well worth reading.
Because now that the legal battles are over, it's time for voters to get to work.
Pennsylvania voters must now study the final maps, find out where their house landed, and pay attention to the candidates who will soon be knocking on their door, if they haven't already.
In their decision last week, the judges changed the election schedule to allow candidates to begin collecting signatures for their nomination petitions from Friday until March 28.
These next few weeks before the May 17 primary will be a political frenzy with voters having to decide who will represent the Democratic and Republican parties in the general elections for Governor, Lieutenant Governor, as well as the State Legislature and Congress. .
Even if you haven't been paying attention for the past few months, it's time to wake up now. Informed voting is a responsibility of every citizen in this Commonwealth. Voters must get to know the candidates and choose competent leaders who will represent them with honesty, integrity and transparency.
It's the best way to say thank you to the many volunteers who have worked so hard for so many years to make Pennsylvania's maps fairer for everyone.