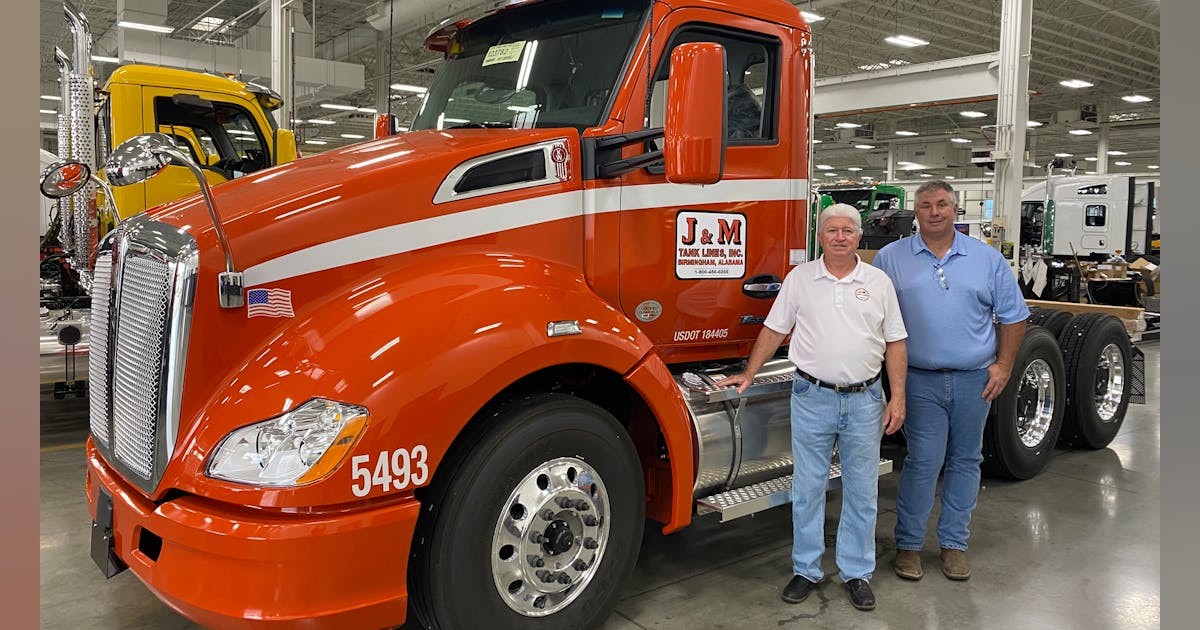 J&M Tank Lines paves the way to maintenance success
J&M Tank Lines, a family business based in Alabama, needs personal experience to succeed.
Fortunately, there are few people more experienced than CEO Harold Sumerford, Jr., who rose through the ranks as a preventive maintenance technician to buy the company from his father in 2014. But Sumerford doesn't just share his time with the organization founded in 1948.; he is also the 77th president of the American Trucking Associations, making his years in the industry a valuable asset to all.
"Harold is a consummate professional and a tremendous ambassador for our industry," said Chris Spear, ATA President and CEO. "His story – working in the family business until he ran the family business – couldn't be more representative of what trucking is all about."
Sumerford has always been synonymous with trucking. He started working for the family fleet as a teenager doing preventive maintenance, dividing his time between the shop and high school in the late 1970s. His father bought the company in the 1960s and became the owner in the early 1980s. Sumerford and his brother Peter Sumerford, chairman of J&M, became owners when their father died in 2014. They have both run the business since 2002. During that time, Sumerford said that the company had increased its revenue by 350%, according to the Birmingham Business Journal.
Considerable growth is made possible by the experience of Sumerford and the availability provided by fleet maintenance facilities. With 11 stores in four states, J&M Tank Lines must transport industrial raw materials, plastics and food-grade products to the highest levels of productivity. Today, in the company, a wide range of expertise in fleet management makes all the difference and paves the way for other workshops.
A maintenance roadmap
The J&M Tank Lines maintenance operation is led by Billy Lollar, vice president of maintenance, who joined the company 10 years ago and brought with him years of experience in utility vehicle service with large leasing companies. Jeff Arledge, Maintenance Manager, came to J&M from a well-known and well-respected food service distribution company. The carrier also uses the services of DWS Fleet Management (DWSFM) and Netradyne's Driver•i vision-based camera platform.
At J&M stores in Alabama, Georgia, Texas, and South Carolina, a team of 55 Paccar-certified supervisors, managers, and technicians maintain and repair 467 power units, approximately 800 trailers, and a mix of support vehicles. A wash service for the fleet of Kenworth T680 tractors, Heil and Polar tank trucks and Tremcar dry bulk trailers is also provided at these stores. The whole operation is supported by a company maintenance group and a host of drivers.
"About a year ago we started implementing a series of initiatives," Lollar said. "Regularly, we pool our knowledge and share ideas. We are all generally on the same wavelength. It's mostly about executing a plan and it all starts with the basics. If you do these things, everything else will fall into place.
See also: Bulk carriers turn to Netradyne for smarter camera security
What Lollar is referring to is a to-do list that served as a roadmap to success. It starts, for example, with the cleanliness of the workshop and the yard.
"We had areas for improvement organizationally," Arledge said. "This has been a focus of our day-to-day operations, and we've found that clean, well-organized stores are more productive."
Also high on the to-do list is a deep dive into the fleet's tractor and trailer preventative maintenance programs, including a review of tools and equipment. "We've updated current procedures and schedules and improved how we manage them," Lollar said. "This effort has also shown how our collective expertise leads to beneficial solutions."
Lollar also highlighted the fleet-wide implementation of maximized tractor oil change intervals.
"Longer intervals made sense, but we were keen to keep pace with transmission lubrication as we have PTO driven pumps to unload the trailers," he explained further. "With a simple change to include grease every time a truck is in one of our shops, we were able to solve both problems and we are now seeing the benefit of lower costs."
Go beyond PM
Another item was a review of the fleet tire program. J&M, Arledge noted, installed Halo tire inflation systems from Aperia Technologies on the tractor drive axles, which eliminated many cases of flat tires.
"We also realized we needed to address tire inspection practices," he said. "Our technicians now examine tires closely every time a vehicle is in a shop for any reason, and not just during routine PMs."
Emphasis was also placed on inspection efforts in general at J&M, including pre-trips performed by drivers.
"We saw increases in the CSA score, and the violations were for issues that could have been fixed," Lollar said. "By involving drivers and posting reminders as simple as signs in the yard, those scores went down."
The organization of the parts inventory and needs are also taken into account. Among the questions asked are determining which items to pre-order from established suppliers, including MHC Kenworth dealerships, FleetPride and several trailer parts suppliers. Keeping tabs on hard-to-get items is especially important given today's supply chain challenges, Lollar noted.
"We need to figure out what inventory we need to keep on hand and what we can order if needed," Lollar continued. "There is a balance between parts inventory and vehicle availability. We are in the truck operation business, so we need to have parts in stock that keep technicians and drivers busy on the road.
Long term partners
Like most fleet shop operations, recruiting technicians can be a challenge for J&M.
"We realized that to get good technicians, we have to develop our own," Arledge said. "The techs we'd like to hire usually have jobs they don't want to leave, and the people who change jobs regularly aren't the ones who will stay with you."
But an approach put in place by J&M is paying off.
"We have partnered with Wallace State Community College, which offers Diesel by Distance, a flexible diesel technology training program," Arledge explained. "Students take online classes and spend the weekends in hands-on training. After 18 months, they obtain a diesel certificate and a CDL. It turned out great for us and for the students.
As part of its involvement, J&M is promoting the program to wash bay employees who are interested in what Arledge called "a life-changing opportunity." Students are then offered jobs as technician helpers in a company store where they can gain more experience.
J&M's task list also focuses on warranty management and work performed by external vendors, as well as measuring shop performance by developing KPIs from data from its TMT Fleet Maintenance software.
"There are several things we'd like to measure, including breakdowns and repairs between PMs, downtime, labor costs, and PM compliance," Lollar said. "We are already doing a lot of positive things, but with this ability we can perform at all levels."
Lollar is pleased with the progress made so far.
Looking ahead, he noted, J&M will continue to lay the foundation for success by focusing on overcoming challenges and implementing best practices.
This article originally appeared on Fleet maintenance.