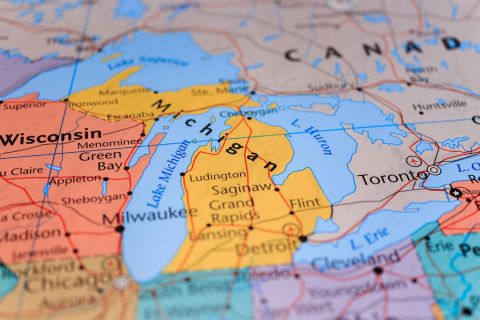 Michigan Redistribution Board Approves Three Congressional Maps; more settings likely
A citizens' commission tasked with redrawing Michigan's legislative boundaries on Monday approved three congressional maps to present to voters for the next 45 days before making a final selection.
Each card predicts a political tossup: Using the 2020 presidential election as a guide, each could favor Democrats 7-6. But if voters act more like they did in 2016, the advantage would be 7-6 for Republicans.
The Michigan Independent Citizens Redistricting Commissioner, tasked by voters in 2018 to come up with a bipartisan set of cards, hopes to provisionally approve the State House and Congress cards this week before a public comment period and final approval by the end. of the year.
Related:
Unlike congressional cards, the 13-member citizens' group on Monday approved a single set of limits for the state Senate, a proposal that would give Democrats a chance to retake the chamber for the first time in nearly 40 years. .
The congressional map process differs from that of the State House and Senate, as Michigan lost a seat in the Federal House due to population stagnation, leaving it 13.
This has forced major changes to the cards and could force cardholders – if they so choose – to fight against each other depending on which card is ultimately adopted.
The three maps approved on Monday include one that connects Grand Rapids and Kalamazoo in a Democratic-leaning district that would be a first in western Michigan in decades, and two others that don't.
Due to population losses in northern Michigan, the three maps would bring the 1st District, now owned by Representative Jack Bergman, R-Watersmeet, further south to the Lower Peninsula.
They are all radically changing the district now owned by Democrat Dan Kildee, D-Flint, whose current 5th district runs along the shore of Lake Huron well north of Bay City. The new maps create a neighborhood that stops around Midland and includes more of the Republican-leaning thumb region.
At the end of Monday's meeting, raw emotion erupted within the committee, with Commissioner Brittni Kellom, a Democrat from Detroit, crying after her attempts to create a fourth congressional map were put aside.
Kellom had proposed an east-west divide within Detroit which she said was better suited to what community members had been looking for.
But after about 40 minutes of adjustments to an existing map designed to address Kellom's concerns, fellow Commissioner MC Rothhorn D-Lansing halted the process, saying it was not possible to create a map that balanced. his concerns with others.
In particular, he said he could not approve a map connecting the thumb to the communities across Saginaw Bay.
"We have to make choices, tough choices," Rothhorn said.
Kellom then pointed out that the commission spent more than three hours working on a map affecting Ann Arbor. Her voice rose, President Rebecca Szetela at one point telling Kellom to "just stop".
Kellom said she feels on her own as Detroit's only commissioner "when you all openly admit that you have no idea what to do with Detroit.
"When it is time to have a discussion, it is not wanted."
Szetela then agreed to review Kellom's suggestions overnight and try to come up with a pleasant solution. More card work could come on Tuesday.
Michigan's current 14-member delegation is divided 7-7. But in 2012, in the first election after the last redistribution, pulled by GOP supporters, it was 9-5 in favor of Republicans, even though the Republican candidates got 48% of the vote and Democrats 47%.