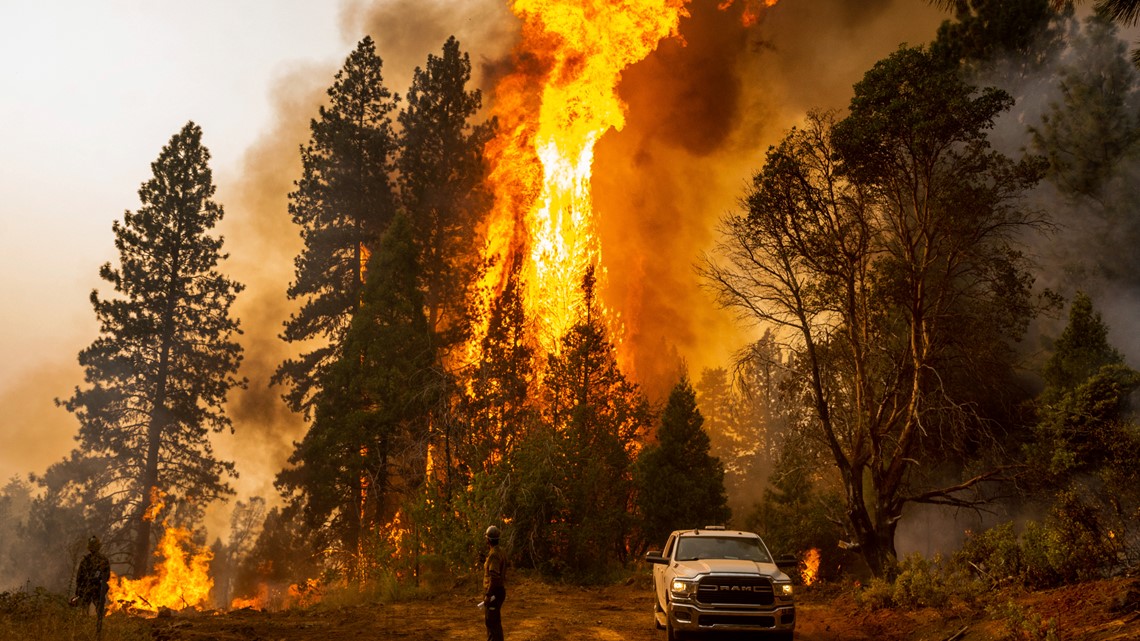 Mosquito Fire Map, Updates, Live Evacuation Maps, Containment
Flames from the Mosquito Fire jumped the American River, burning structures in Volcanoville and closing in on Foresthill and Georgetown.
FORESTHILL, Calif. – The fast-moving Mosquito Fire in the Sierra Nevada foothills continues to grow and threaten more than 5,000 homes, while blanketing the region in smoke.
Although lower temperatures and higher humidity kept the fire from growing quickly, erratic winds prevented firefighters from getting ahead of the flames.
"We've gotten some respite with some of the weather we've had, but the fuel conditions are still pretty volatile right now," Ernie Villa, fire management officer for the U.S. Forest Service, said Saturday.
Cal Fire announced Saturday that the fire has burned 37,326 acres and is 0% contained. Officials say more than 11,000 people were evacuated from the area on Saturday evening.
The flames are moving north and northeast as winds increase in speed and change direction. Officials say they are now opening lines of control that were previously used in other fires to try to stop the fire from spreading.
► Scroll down for Evacuation Maps and other fire resources.
PHOTOS: Scenes from the Mosquito Fire
David Hance slept on the porch of his mother's Foresthill mobile home when he awoke to glowing skies early Wednesday morning and was told to evacuate.
"It was actually terrifying, because they're like, 'Oh yeah, it's getting closer,'" he said. "It was like a sunset in the middle of the night."
Hance left behind most of his electronics, all of his clothes and family photos and fled to Auburn, where he was reunited with his mother, Linda Hance, who said the biggest stress was wondering: "Is my house still there?
The Mosquito Fire surpassed the Fairview Fire in size and became California's largest blaze on Friday.
RELATED: Pyrocumulus: What It Is and How Does It Form?
RELATED: How to check the air quality where you live
The cause of the Mosquito Fire remained under investigation. Pacific Gas & Electric said unspecified "electrical activity" occurred shortly after the fire was reported on Tuesday.
El Dorado County Sheriff John D'Agostini issued a local emergency due to the fire and a public health emergency was issued for the area due to the smoke.
The fire will continue to threaten communities, power lines, critical infrastructure, endangered species and watersheds, Cal Fire officials said Saturday.
Stay informed
Live Evacuation Maps
Placer County Sheriff's Office Evacuation Map:
El Dorado County Sheriff's Office Evacuation Map:
STAY INFORMED WITH ABC10:
► ABC10 In your inbox: Sign up now for our daily newsletter for local headlines, weather, tips and even something to put a smile on your face.
► ABC10 on demand: Access our local news, live programming and weather with the free ABC10 app for Roku and Amazon Fire TV.
Evacuation centers
Evacuation centers:

Sierra College at 5100 Sierra College Blvd. in Rocklin
Temporary Location: Auburn Regional Park Gym at 3770 Richardson Dr. in Auburn for parking (for RV/car), bathrooms, and shower access ONLY (no hookups/sleeping areas/etc. )
Green Valley Community Church at 3500 Missouri Flat Rd. in Placerville

For large and small animals: Nevada County Fairgrounds at 11228 McCourtney Road in Grass Valley. Gate 8 check-in

No birds/chickens due to bird flu.
Evacuation centers:

Cameron Park Community Services District, 2502 Country Club Drive, Cameron Park
Green Valley Community Church, 3500 Missouri Flat Rd, Placerville

El Dorado County Animal Shelter 6435 Capitol Avenue, Diamond Springs
Rancho Murieta Equestrian Center, 7200 Lone Pine Dr, Rancho Murieta

Must call first: (916) 985-7334

Large pets only: Flying M Ranch, 82 Carefree Way, Oroville
Map
This map from the National Interagency Fire Center shows fire activity (may take a few seconds to load):
RELATED: Schools Closed Due to Mosquito Fire in Placer, El Dorado Counties
RELATED: Smoke Affects Foothills and Valley Regions Overnight as Mosquito Fire Grows
Road closures
For a Waze map with current road closures, click here.
SEE MORE : How crews planned to fight the fire on Friday evening: