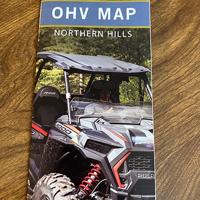 New motorized trail maps available in April | Local News
LEAD – A map that documents all motorized trails in the Northern Black Hills will be available for distribution in April.
After several years of planning and working with public landowners, Dustin Heupel, president of the Northern Hills Recreation Association, announced on Monday that he expects the cards to be distributed just before the start of the off-road season. in mid-May. Distribution points will include all accommodation properties, the Black Hills Trails office, gas stations, visitor centers and other locations where visitors obtain information. Additionally, he said the maps will be available on an app with downloadable digital copies.
The map connects approximately 3,000 miles of trails in the Northern Hills Ranger District. It shows how each trail connects, gives an explanation of each trail, and highlights different areas of interest within nearby communities. It is the result of five years of collaboration with the US Forest Service, Game, Fish, and Parks, the Bureau of Land Management, the cities of Lead and Deadwood, and the State Department of Transportation.
Heupel said the printed map will be a three-fold brochure that will be distributed at each ATV/UTV rental location and other major tourist stops. Initially, there will be 20,000 printed copies. There will also be a downloadable app. Additionally, he said that most new ATV/UTV machines with GPS systems will have the map pre-loaded into the system.
"These will be pretty much everywhere," Heupel said.
The effort to develop these maps is part of a much larger project through the Northern Hills Recreation Association and other interested federal and state land managers, as well as other recreation groups to improve the system. of motorized trails in the Northern Hills Ranger District. The group strives to model the ATV/UTV trail system and its maintenance after snowmobile trail systems, which are ranked in the top five nationally.
To read all of today's stories, click here or call 642-2761 to subscribe to our e-edition or home delivery.