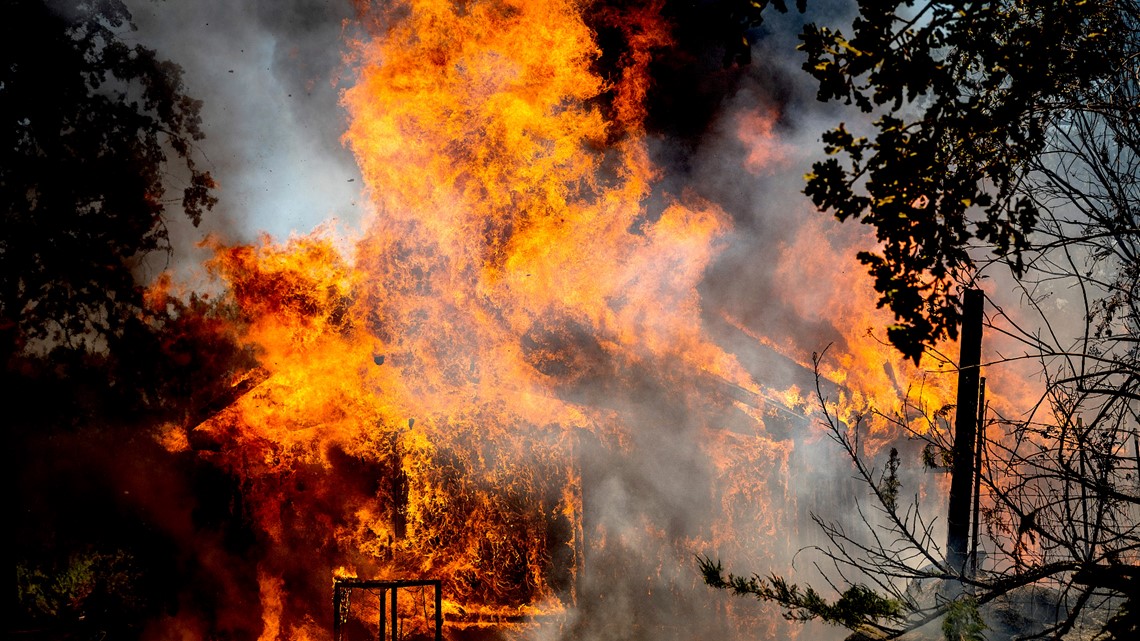 Oak Fire near Yosemite burns down buildings | Maps, evacuation, updates
Governor Gavin Newsom has declared a state of emergency for Mariposa County due to the effects of the fast-moving wildfire near Yosemite National Park.
WAWONA, Calif. — A fast-moving brush fire near Yosemite National Park erupted into one of California's largest wildfires of the year on Saturday, prompting evacuation orders for thousands of people and cutting electricity to more than 2,000 homes and businesses.
The Oak Fire began Friday afternoon southwest of the park near the town of Midpines in Mariposa County and by Saturday had grown to nearly 19 square miles (48 square kilometers), according to the California Department of Forestry and Fire Protection, or Cal Fire. It erupted as firefighters made progress against an earlier blaze that had burned to the edge of a grove of giant sequoias in the southernmost part of Yosemite Park. The area is about 11,900.
Evacuation orders were put into effect Saturday for more than 6,000 people living for several miles in the sparsely populated rural area, said Daniel Patterson, spokesman for the Sierra National Forest.
Governor Gavin Newsom declared a state of emergency for Mariposa County on Saturday due to the effects of the Oak Fire.
More than 400 firefighters were battling the blaze, along with helicopters, other planes and bulldozers, facing harsh conditions including hot weather, low humidity and very dry vegetation caused by the worst drought in decades , Patterson said.
"Explosive fire behavior is a challenge for firefighters," Cal Fire said in a statement on Saturday describing Oak Fire activity as "extreme with frequent runs, spot fires and group fires."
By Saturday morning, the fire had destroyed 10 residential and commercial structures, damaged five others and threatened 2,000 other structures, Cal Fire said. The fire caused numerous road closures, including the closure of Highway 140 between Carstens Road and Allred Road, blocking one of the main routes to Yosemite.
California has seen increasingly large and deadly wildfires in recent years as climate change has made the West much hotter and drier over the past 30 years. Scientists said weather will continue to be more extreme and wildfires will be more frequent, destructive and unpredictable.
"The fire moves quickly. This fire was throwing embers ahead of it up to 2 miles yesterday," Patterson said. "These are exceptional fire conditions." The cause of the fire was under investigation.
Pacific Gas & Electric said on its website that more than 2,600 homes and businesses in the area lost power Friday afternoon and there was no indication when it would be restored. "PG&E is unable to access the affected equipment," the utility said.
On Friday, a barefoot elderly man trying to flee the blaze crashed his sedan into a ditch in a closed area and was helped by firefighters. He was led safely out of the area and does not appear to have suffered any injuries. Several other residents remained at home Friday evening as the fire burned nearby.
Sacramento area fire crews have already hit the road to help battle the blaze.
"We worked with our cooperating agencies to get Metro Fire to send in a type 3 device and it's a pump-and-roll capable engine, which means it can roll and spray water at the same time and that are the devices that we use on the grass fire or the wildland fires in this urban interface," Capt. Parker Wilbourn with Sacramento Metro Fire. "We are also in the process of sending our Type 1 devices. These are larger and have about 700 gallons of water in the tank, and they are better able to fight structural fires."
Meanwhile, firefighters made significant progress against a wildfire that started in Yosemite National Park and burned through the Sierra National Forest.
The Washburn Fire was 79% contained on Friday after burning about 7.5 square miles (19.4 square kilometers) of forest. It was one of the biggest fires of the year in California, with the Lost Lake Fire in Riverside County being fully contained in June at 9 square miles (23 square kilometers).
The fire broke out on July 7 and forced the closure of the south entrance to Yosemite and the evacuation of the community of Wawona as it burned on the edge of Mariposa Grove, home to hundreds of giant sequoias, the largest trees in the world by volume.
Wawona Road is tentatively set to reopen on Saturday, according to the park's website.
Information on the evacuation of animals:
Small Animals – Mariposa County SPCA 5599 Hwy 49 North, Mariposa (full)
Small Animal-Mariposa Elementary School 5044 Jones St. Mariposa (6th and Jones)
Big Animals – Maiposa County Fairgrounds 5007 Fairgrounds Rd. Mariposa
EVACUATIONS:
An evacuation map for Mariposa County is available below.
Red Cross:
Mariposa County Elementary School 5044 Jones Street Mariposa
Road closures:
Carsten Road
Triangle Rd from Hwy 140 to Hwy 49 South
Mount Buckingham Road
Plumbar Creek Road
Jerseydale Rd and all secondary roads
Highway 140 from Allred Rd to Ponderosa Way
Darrah Road
Silva Road from Triangle Road to Cole Road
Cole Road
McNally Road
Boyer Rd and all secondary roads
Brooks Road
Dr Woodland
From Carelton Road to Morningstar Road
Morningstar Road.
STAY INFORMED:
FIRE CARD:
This map from the National Interagency Fire Center shows fire activity (may take a few seconds to load):
AERIAL VIEWS OF OAK FIRE:
Aerial video provided by ABC7.
PREPARATIONS FOR THE WILD FIRE:
Overall, 2.5 million acres were burned in 2021 from 8,835 wildfires. Over 3,600 structures were destroyed and 3 people were killed.
If you live in an area prone to wildfires, Cal Fire suggests creating a defensible space around your home. A defensible space is an area around a building in which vegetation and other debris are completely clear. At least 100 feet is recommended.
The Department of Homeland Security suggests putting together an emergency kit of important documents, N95 respirator masks, and supplies to take with you if you have to leave at any time. The agency also suggests signing up for local alert system notifications and learning the best about your community's evacuation plans to prepare you and your family in the event of a wildfire.
Some counties use Nixle Alerts to notify residents of severe weather, wildfires, and other news. To sign up, visit www.nixle.com or text your postcode to 888777 to start receiving alerts.
Read more: Are you ready for wildfires? Here's what to do to prepare for fire season.
PG&E customers can also subscribe to alerts by SMS, email or phone call. If you are a PG&E customer, visit the Profile & Alerts section of your account to register.
What questions do you have about the latest wildfires? If you are affected by wildfires, what would you like to know? Text the ABC10 team at (91) 321-3310.
Watch more from ABC10: Saving Mariposa Grove redwoods in the middle of a Yosemite wildfire
ABC10: watch, download, read