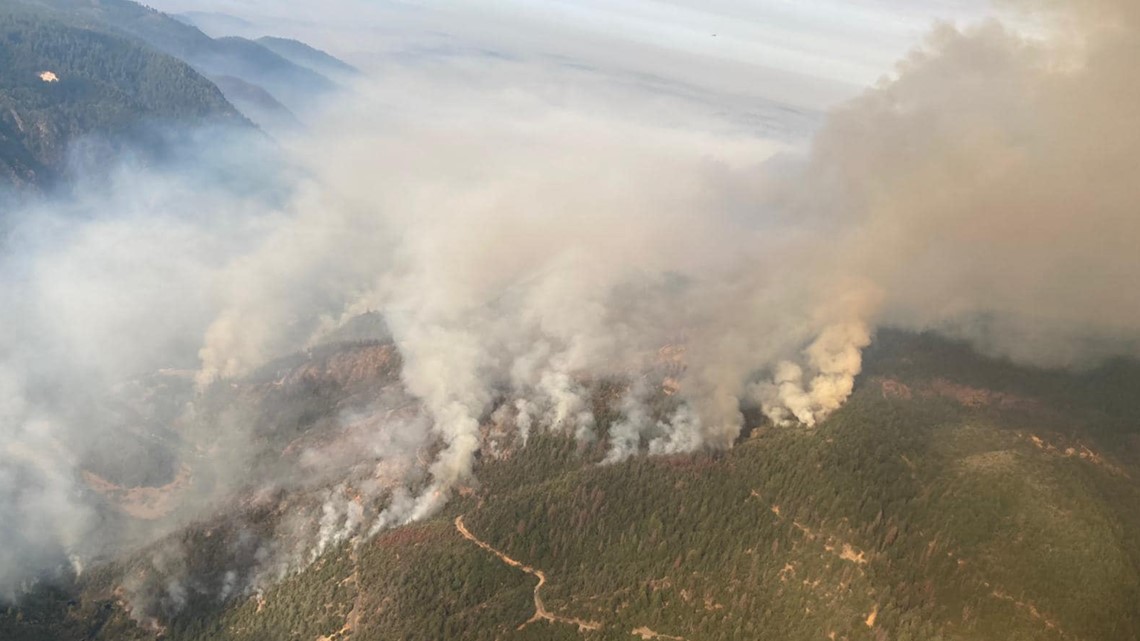 Placer County Mosquito Fire: Evacuations, Maps, Updates
Evacuations are in effect in the Placer County and El Dorado County areas for the Mosquito Fire that started Tuesday afternoon near the Oxbow Reservoir.
PLACER COUNTY, Calif. – The Mosquito Fire in Placer County burned about 4,223 acres Wednesday without containment, according to Cal Fire.
Evacuations are in effect for areas of Placer County and El Dorado County. All areas previously under evacuation warnings are now under mandatory evacuations, including Foresthill, according to the Placer County Sheriff's Office evacuation map.
Cal Fire advises people who live near fire to be ready to evacuate if a warning or an order is issued.
The fire started Tuesday near Oxbow Reservoir in the Tahoe National Forest.
Cal Fire said high temperatures today, along with low humidity and erratic winds will provide "extreme burning conditions" and the potential for spot fires.
Matt Langstaff, who has lived in Foresthill for 25 years, told ABC10 he had already packed his car with clothes, photographs and documents. He said he was worried as there is only one way in and out of Foresthill.
"We had a few [of] relatives a couple [of] years ago. They came from the other side here but it's pretty close. It started right across from where I live in the canyon, then at night it looks really close and goes up the hill, so it's scary," Langstaff said.
Cal Fire initially said the Mosquito Fire spread to El Dorado County, but additional mapping Wednesday morning shows the fire did not cross into El Dorado County.
The crews face steep and inaccessible terrain as they attempt to bring the fire under control. Cal Fire said there was a lot of smoke in the area near the fire. The Placer County Air Pollution Control District issued an air quality advisory through Friday. Find a Purple Air air quality map HERE.
Stay informed
Evacuations
Evacuation order: Foresthill, Michigan Bluff, Gorman Ranch, Chicken Hawk, Blackhawk, Ebbert Ranch and Finning Mill to Sugar Pine Reservoir
Evacuation notice: Todd Valley, Spring Garden, Whitehawk Ridge, Yankee Jims
Evacuation order: Volcanoville, Tunnel Hill, Monts Honorables sector
Evacuation Notice: Quintet
Specific boundaries for evacuations from the El Dorado County Sheriff's Office can be found HERE.
Evacuation centers
Evacuation Center: Bell Road Baptist Church at 707 Bell Road in Auburn
Small and large animals can be taken to the Placer County Animal Services Center at 11232 B Avenue in Auburn
El Dorado County Animal Shelter 6435 Capitol Avenue, Diamond Springs, CA
El Dorado Co Large Animal Shelter for evacuated homes only: Saureel Vineyards 1100 Cold Springs Road, Placerville, CA 95667
Residents who are under an Evacuation Order and/or Evacuation Warning may transport their large animals/livestock to Nevada County Fairgrounds at 11228 McCourtney Road, Grass Valley. Check in at Gate 8

No birds/chickens due to bird flu.
Cool Community Church at 863 Cave Valley Road
Evacuation map
Here is a map of evacuations from the Placer County Sheriff's Office.
Map of fires
This map from ESRI shows fire activity (may take a few seconds to load).
Forest fire preparations
Overall, 2.5 million acres were burned in 2021 from 8,835 wildfires. Over 3,600 structures were destroyed and 3 people were killed.
If you live in an area prone to wildfires, Cal Fire suggests creating a defensible space around your home. A defensible space is an area around a building in which vegetation and other debris are completely clear. At least 100 feet is recommended.
The Department of Homeland Security suggests putting together an emergency kit of important documents, N95 respirator masks, and supplies to take with you if you have to leave at any time. The agency also suggests signing up for local alert system notifications and learning the best about your community's evacuation plans to prepare you and your family in the event of a wildfire.
Some counties use Nixle Alerts to notify residents of severe weather, wildfires, and other news. To sign up, visit www.nixle.com or text your postcode to 888777 to start receiving alerts.
Read more: Are you ready for wildfires? Here's what to do to prepare for fire season.
PG&E customers can also subscribe to alerts by SMS, email or phone call. If you are a PG&E customer, visit the Profile & Alerts section of your account to register.
What questions do you have about the latest wildfires? If you are affected by wildfires, what would you like to know? Text the ABC10 team at (916) 321-3310.
California heat wave | Hottest day in Sacramento history as records fall in region
ABC10: watch, download, read